Our Plants, Flowers & Trees
M to P

Big Flower Super Nursery
NSW Central Coast
4362 2236

Our Plants, Flowers & Trees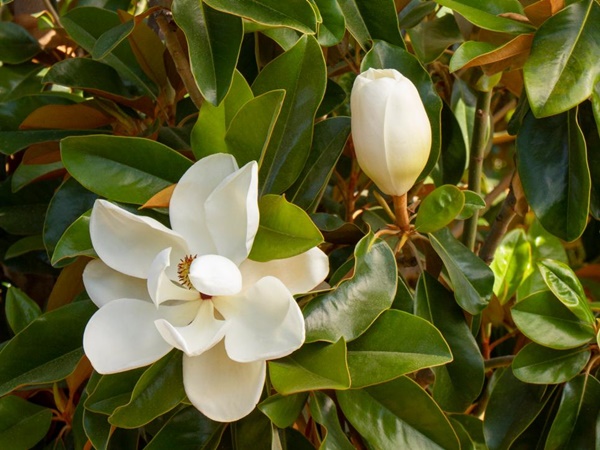 Magnolia
Magnolias are spreading, evergreen or deciduous trees or shrubs, characterised by large fragrant flowers which may be bowl shaped or star shaped, in shades of white, pink, purple, green or yellow.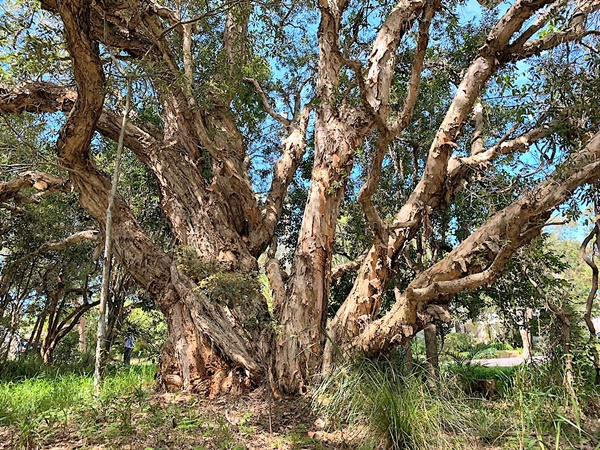 Melaleuca
Melaleuca, commonly known as the Broad Leaved Paperbark, Paper Bark Tea Tree, Punk Tree or Niaouli, is a small to medium sized tree of the Myrtle family, Myrtaceae. It grows as a spreading tree up to 20m tall.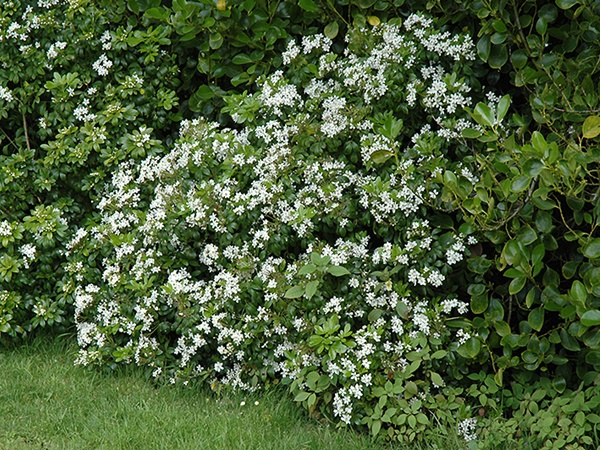 Mexican Mock Orange
Mexican Mock Orange, is an easy to grow shrub with true deep green glossy foliage and clusters of fragrant citrus like white flowers. Can be clipped into a semi formal hedge or left as an informal hedge.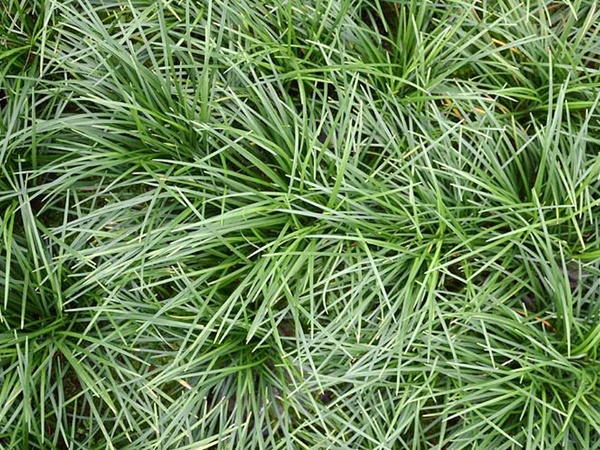 Mondo Grass
Mondo Grass has deep green or purple/black perennial strappy leaves and compact growth habit make it perfect for fitting into those cracks in pavers, around garden edges or in pots to fill out the base and add elegance to the garden.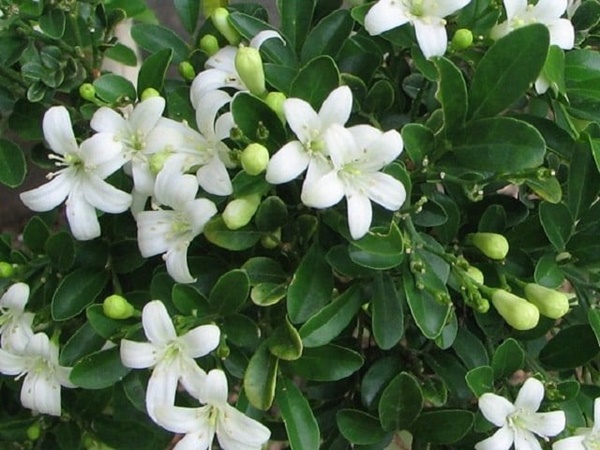 Murraya
Beautifully scented white flowers in Spring and Summer, glossy dark evergreen leaves, and a tight compact habit make an excellent privacy hedge for frost free gardens. It has the most gorgeous fragrance on warm days.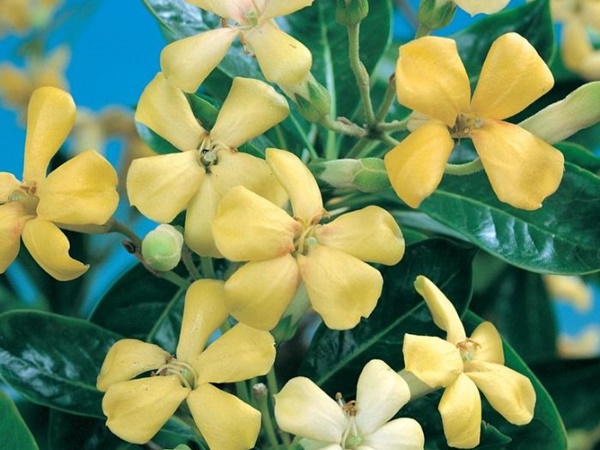 Native Frangipani
Native Frangipani, is a rainforest tree which is native to QLD and NSW and New Guinea. It is the sole species within the genus Hymenosporum, and is closely related to the widespread genus Pittosporum.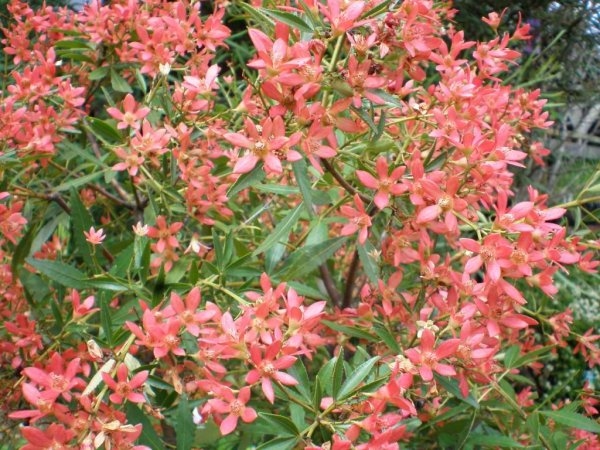 NSW Xmas Bush
This bush is unique in that its petals aren't the brightest and most beautiful part of the plant. That feat instead goes to the vibrantly coloured sepals that emerge after flowering and become bold and bright in colour.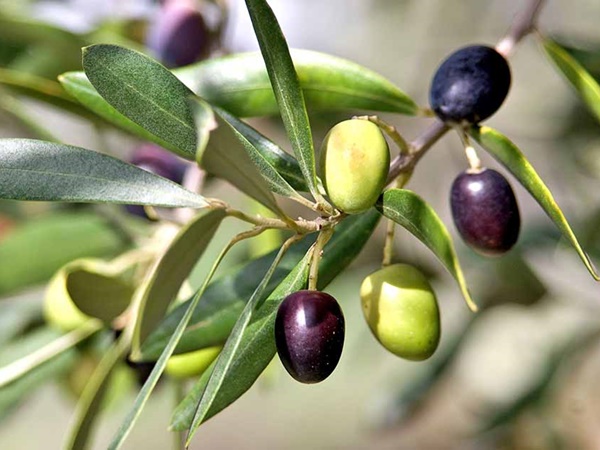 Olive
The Olive Tree ranges in height from 3m to 12m or more and has numerous branches. Its leaves, leathery and lance-shaped, are dark green above and silvery on the underside and are paired opposite each other on the twig.
Palms – Cabbage
The Cabbage Tree Palm is a native Australian palm. It is a large palm growing up to 30m in height and a 30cm trunk in diameter. Its has green glossy leaves with little spikes going down frond.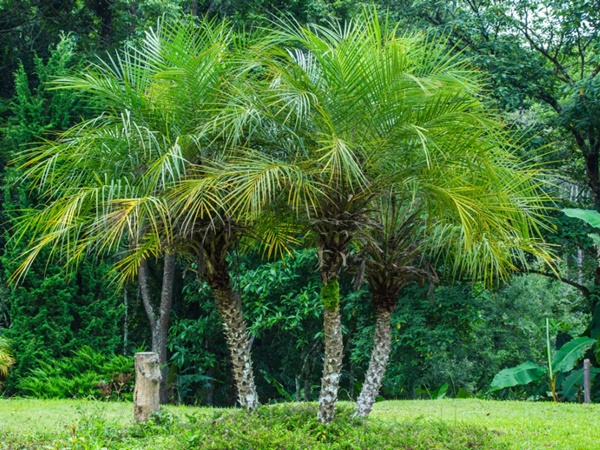 Palms – Dwarf Date
Dwarf Date Palms have small, yellow hued flowers, which give way to tiny purplish dates born on a thin solitary trunk with deep green fronds forming a crown. Insignificant thorns also grow on the leaf stalks.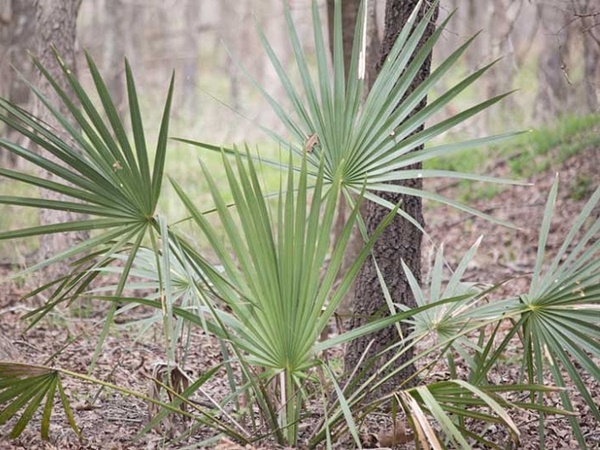 Palms – Sabal
Sabal Minor Palm is a small palm that grows up to 3-4m in height. It can be grown in full sun and part shade in well drained soil. This Palm is known to be the second most hardiness palm in the world, surviving low temperatures.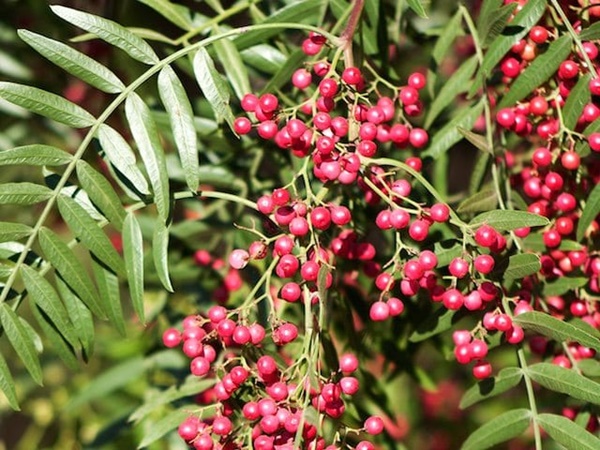 Peppercorn Tree
Peppercorn Trees are a fast growing evergreen tree that features graceful weeping foliage and red berries in Summer. Drought and frost tolerant, these beautiful trees are often found on old farms and older properties.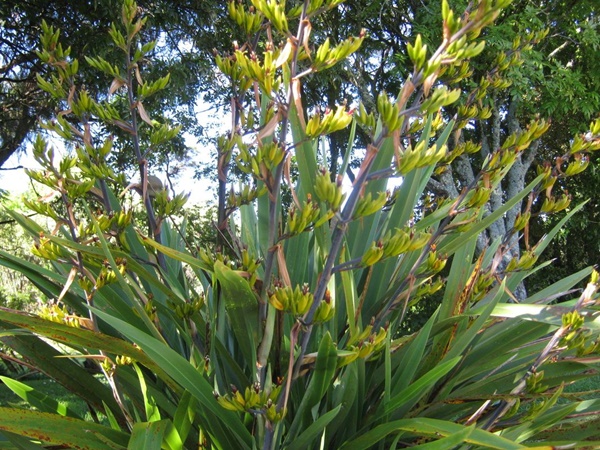 Phormium
Tall, yellowy green, strap like leaves up to 1.5m long form a striking clump. In summer they produce panicles of tubular, yellow flowers that are held on stiff, erect stems and attract nectar feeding birds.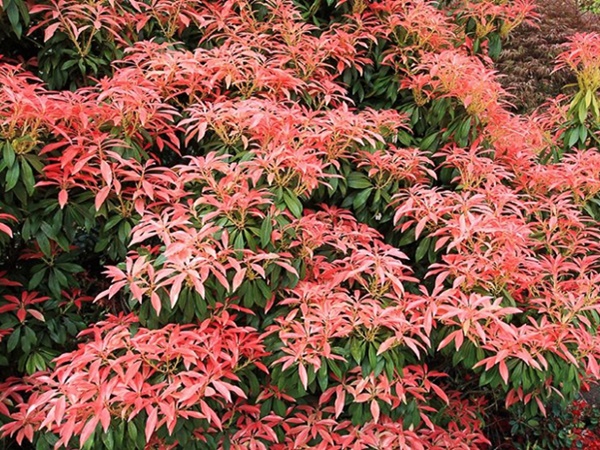 Pieris
Pieris, also known as Lily Of The Valley shrub, is a versatile plant for the cooler zones of Australia. One of the most popular varieties is 'Christmas Cheer', a shrub which grows 1-2m tall and has delicate, icing pink flowers.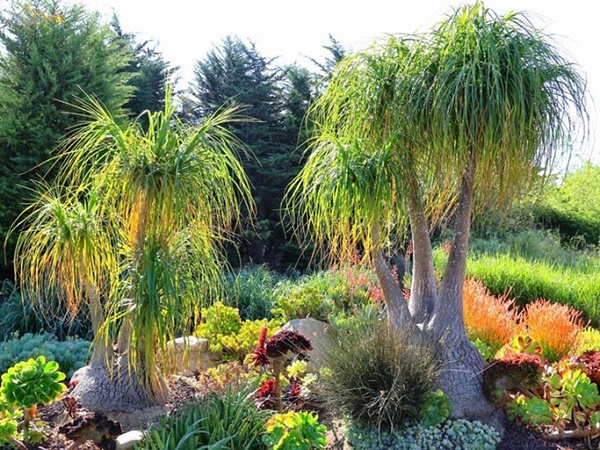 Ponytail Palm
Ponytail Palms are slow growers, these palms have swollen trunk bases that taper. They are best known for their long, slender cascading leaves that are arranged in the same way as a pony tail.
–
Protea
Protea Pink King is a medium sized shrub with bright green foliage and large (12-30cm in diameter) flowers in Summer. This Protea gets it's common name 'King' due to the flowers crown shape.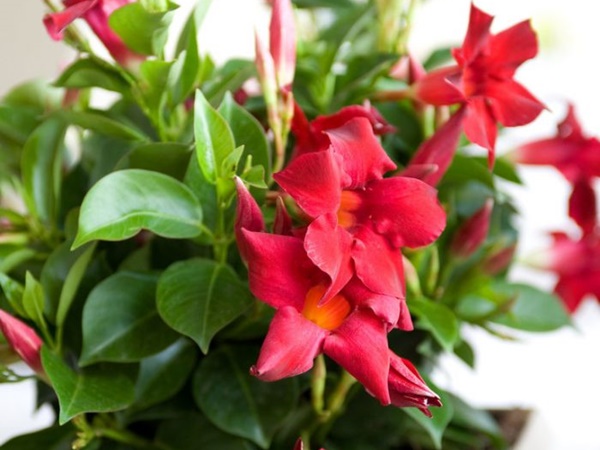 Mandevilla
Mandevillas or Dipladenias are very popular easy care flowering climbers. They are loved for their long lasting flowers and flowering period with their deep red, pink, white and yellow flowers.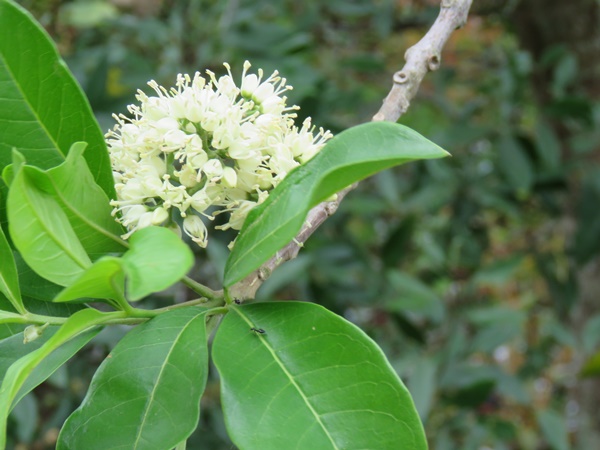 Melicope
Melicope, commonly known as Hairy Leaved Doughwood or White Euodia, is a species of shrub or slender tree in the family Rutaceae. It has trifoliate leaves and white flowers borne in panicles in leaf axils.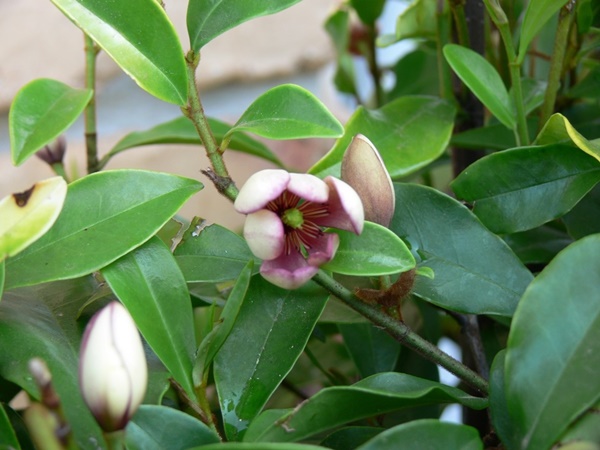 Michelia Coco
The Michelia Coco has highly fragrant cream flowers, tinged with caramel in Spring and Summer. This evergreen is highly effective utilised for hedging, as a specimen plant, windbreaks, screening and tub planting.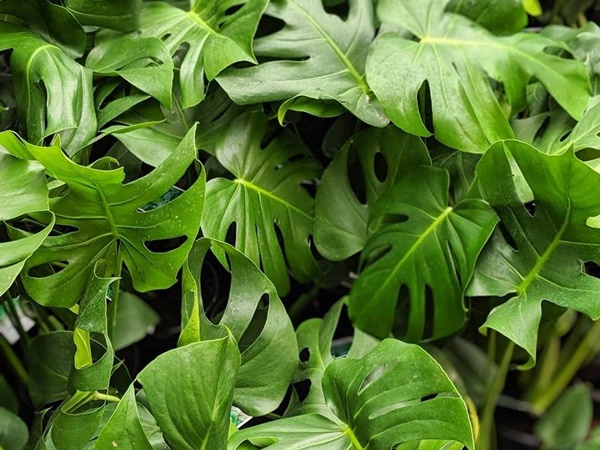 Monsterio Delicio
Monstera Delicio are species of evergreen tropical vines and shrubs that are native to Central America. They are famous for their natural leaf holes, which has led to the rise of their nickname, Swiss Cheese Plant.
–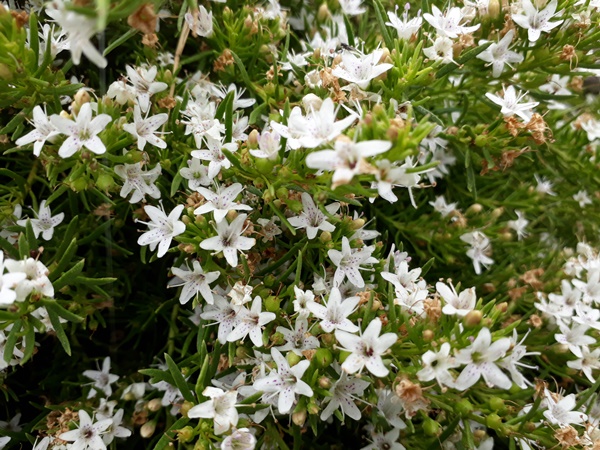 Myoporum
Myoporum is a frost hardy plant that bears white, star like flowers in Spring and Summer. It is a great low lying ground cover that is perfect to use on sloping banks, between trees and shrubs and between paths.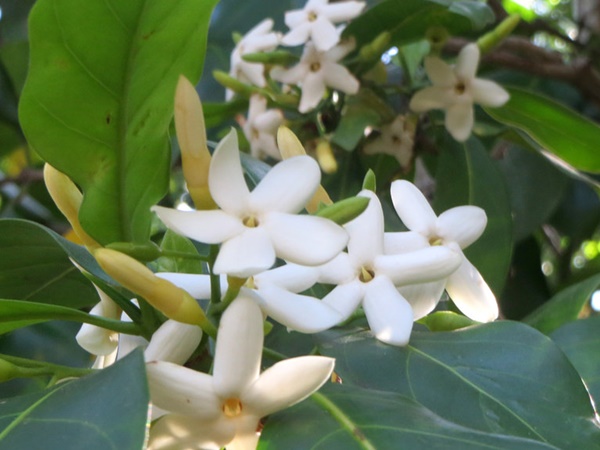 Native Gardenia
Native Gardenia, the brown Gardenia or Yellow Mangosteen, is a species of flowering plant in the family Rubiaceae found in tropical Queensland. It is a beautifully scented flower and has a lush growth.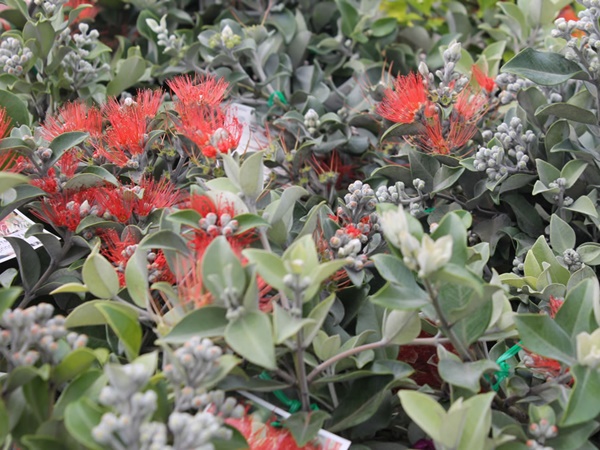 NZ Xmas Bush
This hardy, evergreen shrub has soft, silvery green leaves with masses of small, fluffy orange red flowers in Spring and Summer, attracting birds, butterflies and bees. Ideal for full sun and part shade in gardens.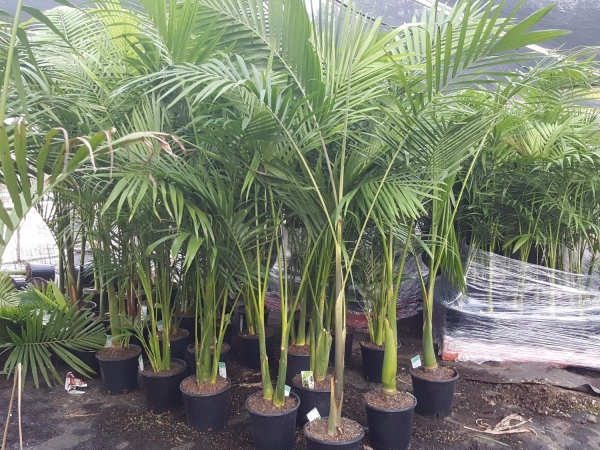 Palms – Alexandra
This hardy, fast growing native palm is happy as a potted ornamental plant or in the garden. Its lush green foliage features fronds with a silver under surface that catches the light, especially when the sun is low.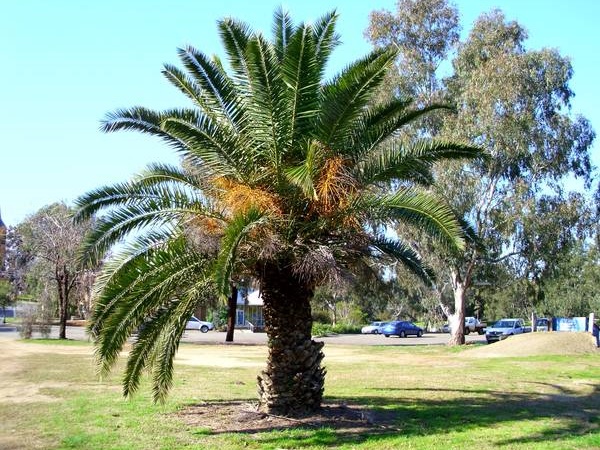 Palms – Canary Island Date
The Canary Island Date Palm is a beautiful tree, native to the warm Canary Islands.It has shiny, feathery fronds, arching branches, and ornamental fruit. This tree is not of the low maintenance school.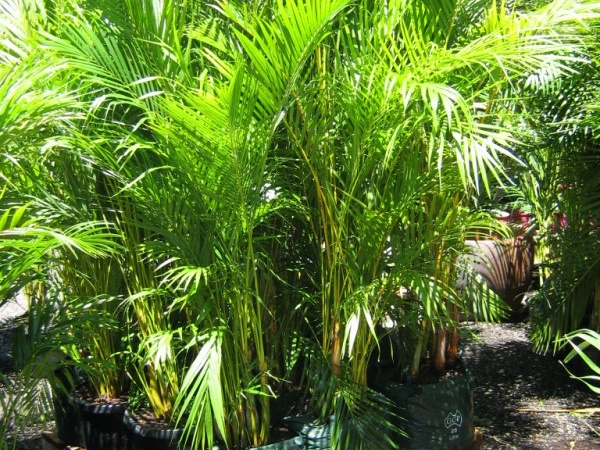 Palms – Golden Cane
They have a clumping growth habit, along with very attractive yellow canes and feathered green fronds. They make a great indoor plant in a pot or they can be planted in the garden as a screen or specimen plant.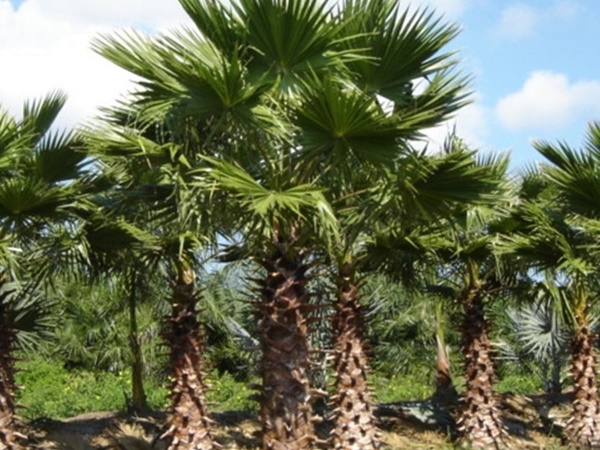 Palms – Washingtonia
The fast growing, extremely hardy Washingtonia Palm can provide big tropical landscape appeal in a hurry. A favorite with builders who want to give a finished look to a newly constructed home, and with homeowners who want more instant look.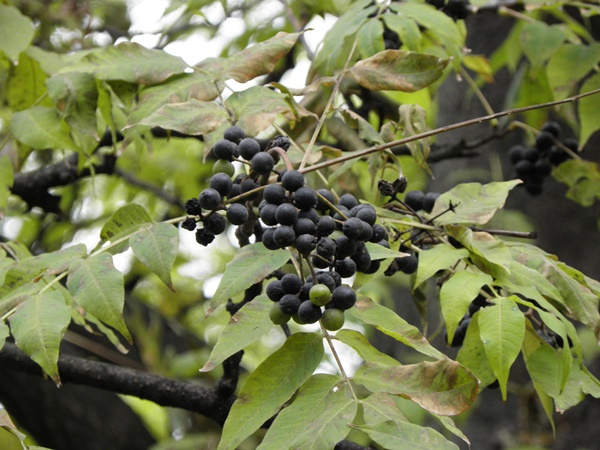 Phellodendrun
Phellodendron, is a genus of deciduous, dioecious trees in the family Rutaceae, native to East and North East Asia. It has leathery, pinnate leaves and yellow, clumped flowers. The name refers to the thick and corky bark.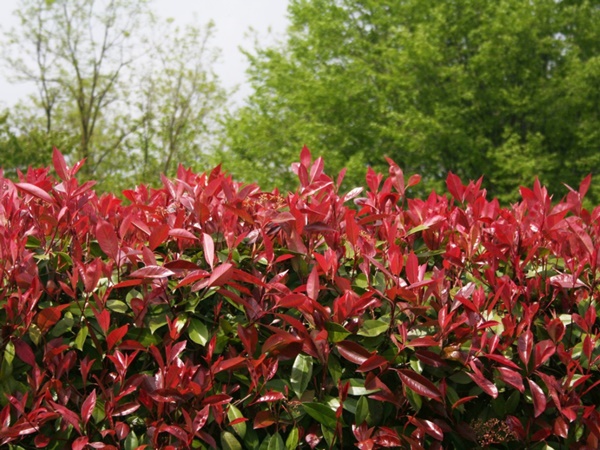 Photinia
Photinia is a genus of about 40–60 species of small trees and large shrubs, but the taxonomy has recently varied greatly, with the Genera Heteromeles, Stranvaesia and Aronia sometimes included in Photinia.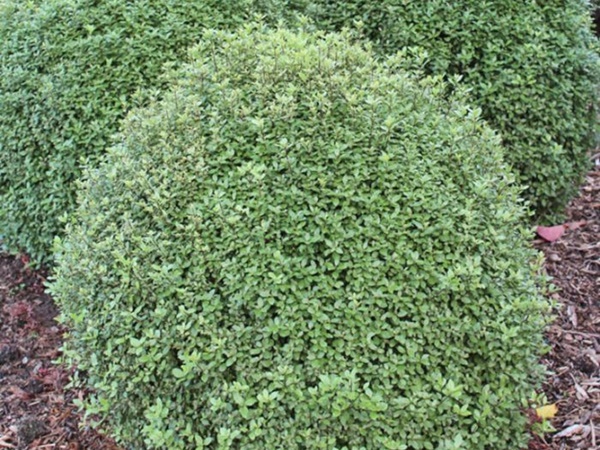 Pittosporum
If you're looking for a fast growing hedging plant then Pittosporum is one to consider. Available in many varieties that offer various sizes of leaves and colours ranging from deep green to silvery green and beige-off-white.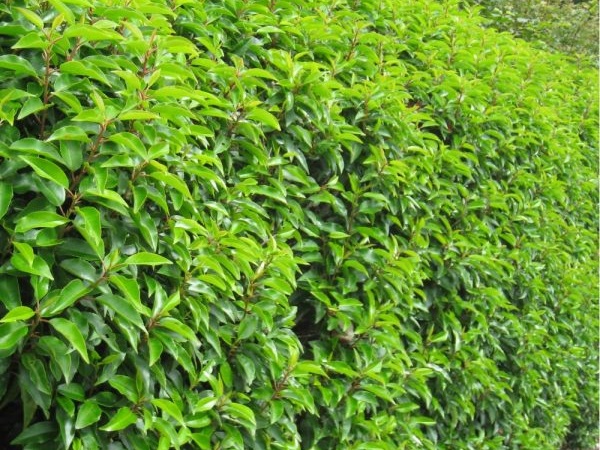 Portugese Laurel
A very hardy small to medium evergreen tree with reddish purple shoots bearing oval, glossy, dark green leaves. Slender long fragrant spikes, white flowers are borne in early summer, followed by fleshy, deep purple fruit.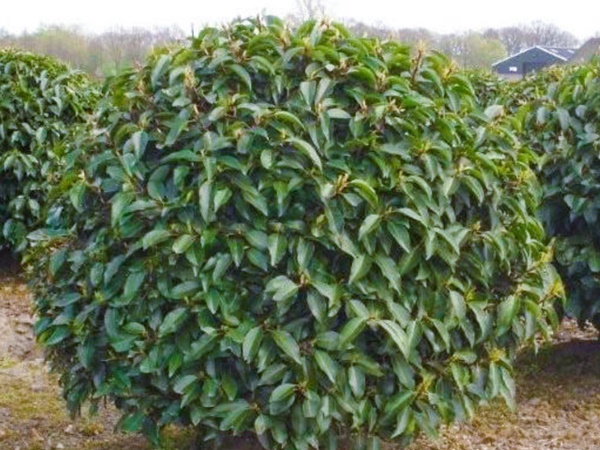 Prunis Lusitanica
Prunis Lusitanica is a large bushy evergreen shrub/spreading small tree. Glossy dark green leaves with slender spikes of small, scented white flowers in summer. A very effective hedging and screening plant.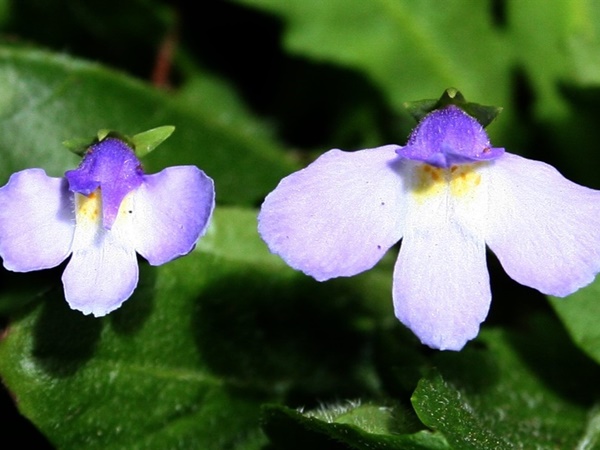 Mazus Pumilo
Mazus is a low, perennial plant with leafy rosettes that are connected by rhizomes. The leaves are spoon shaped and up to 5cm long. Leaf margins may be toothed or entire, often with a wavy surface.
Metrosideros
Metrosideros is a hardy, large shrub to small tree, developing from a dense bun shape when young, to a domed tree with a conical crown as it matures. Leaves are grey green in colour and velvety to touch.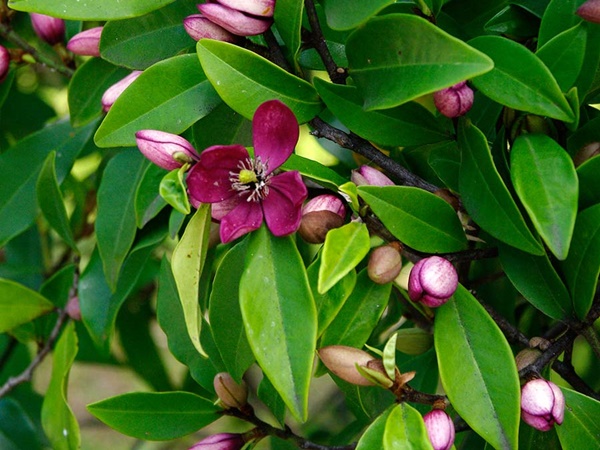 Michelia Figo
Michelia Figo has small, glossy, bright green leaves and during spring and summer tiny beige purple and red flowers emit a heady, fruity scent rather like vintage port. Great as a hedge or specimen plant in the garden.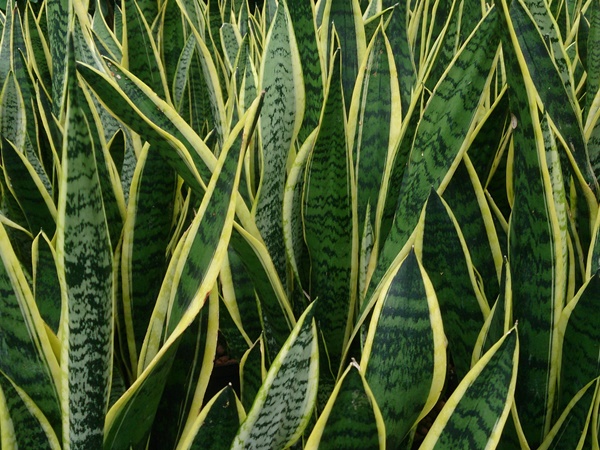 Mother In Laws Tongue
They're very hardy, slow growing, require minimal maintenance, and will tolerate low levels of light, making them ideal for growing indoors. They'll also help improve air quality so having a few around the house is great.
–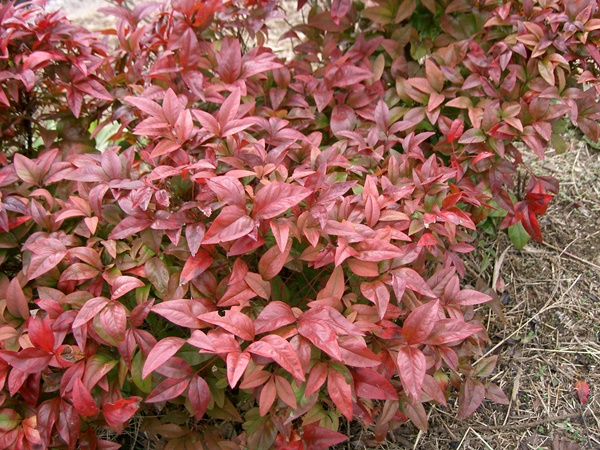 Nandina
Nandina Domestica commonly known as Nandina, Heavenly Bamboo or Sacred Bamboo, is a species of flowering plant in the family Berberidaceae, native to Eastern Asia from the Himalayas to Japan.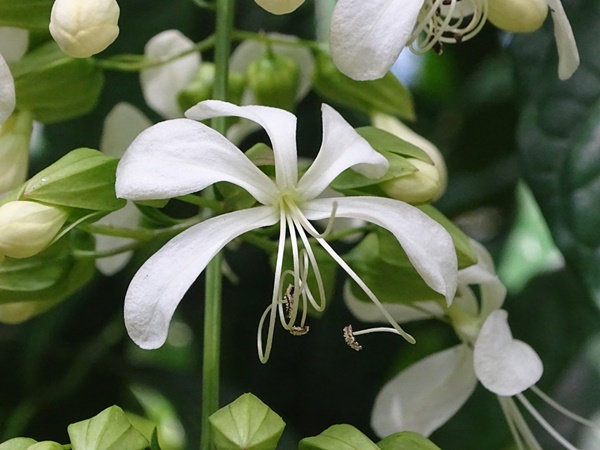 Nodding Cleradendrum
Nodding Cleradendrum are clusters of white butterfly like flowers tumble from lush glossy foliage. Grows up to 2.5m in a full sun to partly shaded spot protected from harsh afternoon sun and strong winds.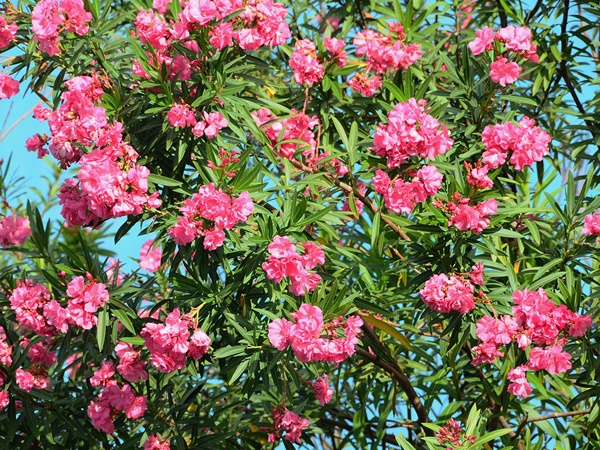 Oleander
Oleanders (Nerium Oleander) are very hardy shrubs with lance shaped, rather leathery leaves and masses of single or double flowers in shades of white, cream, yellow, apricot, pink and crimson.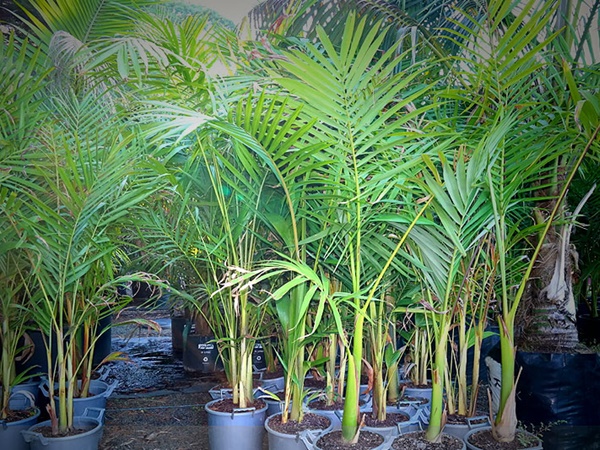 Palms – Bangalow
The Bangalow Palm is a fantastic palm with arching, feathery fronds, adding a striking, tropical look to a well lit indoor space or garden. Can be kept at 1.5 – 2m indoors, and reach up to 25m outdoors.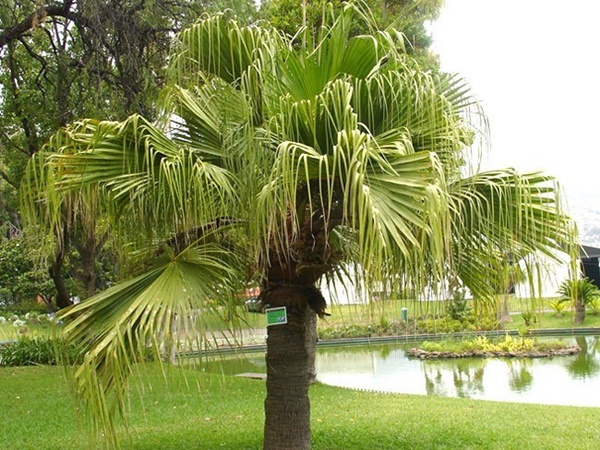 Palms – Chinese Fan
The Chinese Fan is an attractive palm used in group planting or as a specimen plant. It has large fan like leaves that droop down, it is a slow growing palm, taking 3-5 years to establish it self.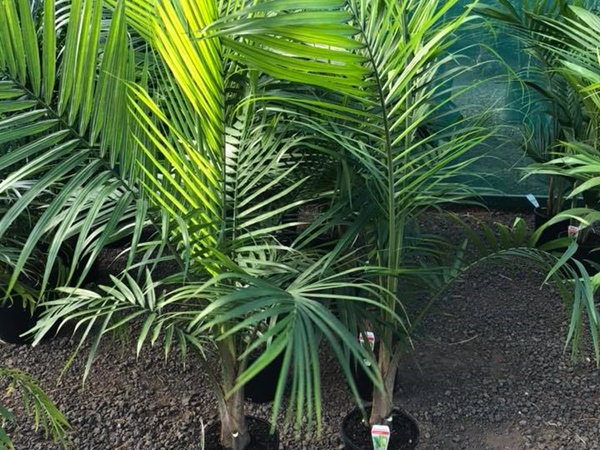 Palms – Majestic
Majesty Palm is a slow growing palm with long arching green fronds atop multiple stems. It is usually grown as a large houseplant, though it can reach heights of up to 90 feet in its native outdoor environment.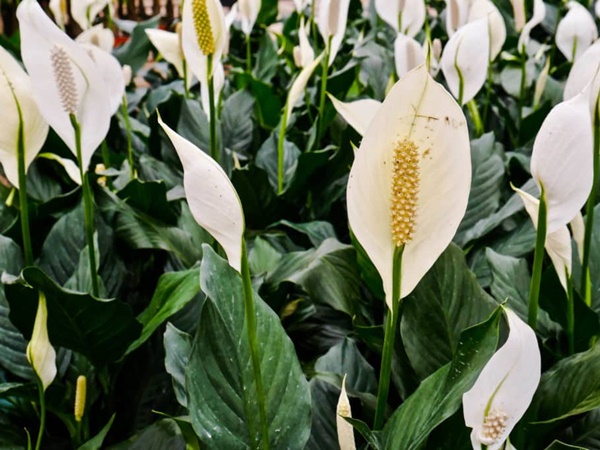 Peace Lily
Peace Lilies are tropical, evergreen plants that thrive on the forest floor, where they receive dappled sunlight and consistent moisture. Replicating these conditions in the home is the key to getting your Peace Lily to be happy and healthy.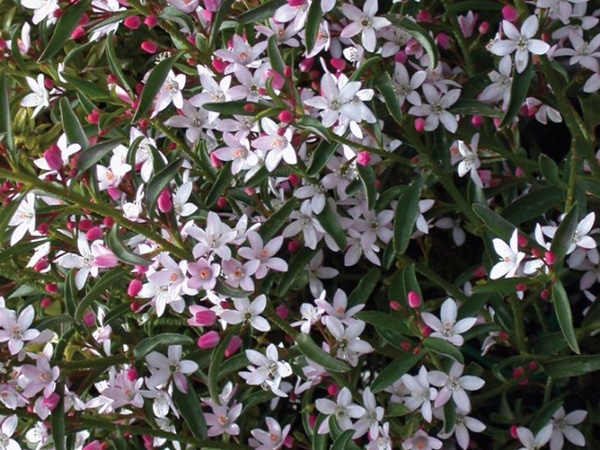 Philotheca Myoporoides
Philotheca Myoporoides, is a hardy large shrub with a long flowering season of small but showy pale flowers set amid a firm mid green foliage. It is a hardy plant that will thrive through cold and drought.
Phyllathus
Phyllathus, with red wine colour on leaves, is unique as it's leaves fold together in pairs like butterfly wing at dusk and open again in the morning. Originally found on mountains 100m above sea level.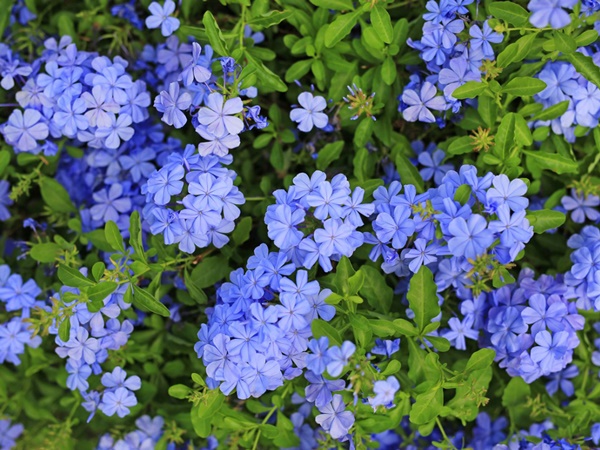 Plumbago
Plumbagos are summer blooming, shrubby, semi climbers which spread by clumping from the base. They flower prolifically with trusses of white or blue blooms. Useful fast growing screen plant for hedges or on its own.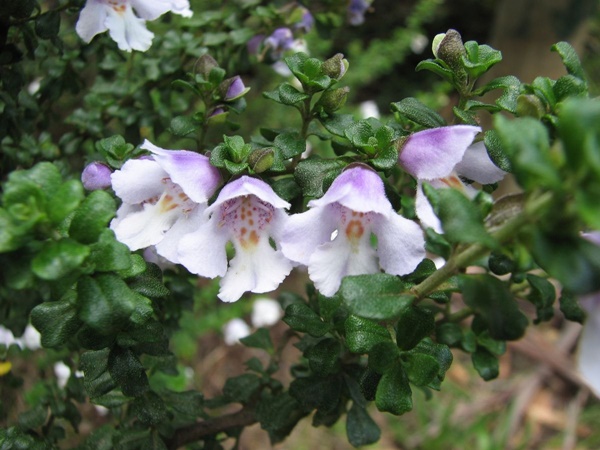 Prostanthera
Prostanthea is an Australian native shrub with a dense, compact form, and tiny dark green leaves that are very aromatic. The flowers are a white to mauve in colour and have purple and yellow spots in their throats.
–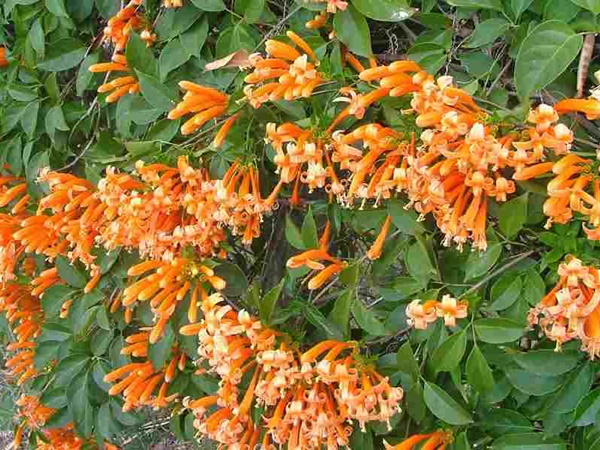 Pyrostegia
Pyrostegia is one of the most spectacular winter flowering climbers you can find and is sometimes called the flame vine. If you want to make a statement in your winter garden then this is the plant for you.